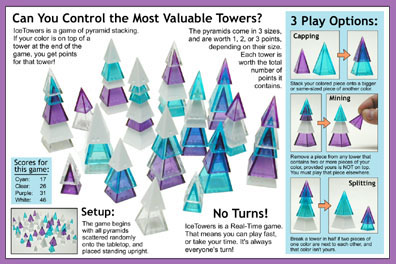 Last night's game session was at Janet's, so at her request we were looking for games at the friendlier end of the complexity spectrum.
First up was Les's
Fearsome Floors
, which turned out to be a bit of a brain-bender. It seemed to bring out the analysis-paralytic in all of us. Though the theme is fun, the actual game-play seemed rather dry and hard-work to me. Having finally played it, I'm pleased I traded my copy last year. Les won easily. Perhaps the fact that I did terribly didn't help me feel well-disposed to the game?
Next I introduced
IceTowers
. I've never played it before, but it was simplicity itself to explain. Everyone got into the game with gusto. The only problem was some clutzy tower-spilling incidents with 6-players all reaching at once to make an urgent move - it sometimes resembled
Twister
more than anything! Good fun, and Janet proved to be the clear champion after 3 rounds.
Finally we played
Diamant
, a fun little game which I enjoyed (and won - that always helps!)